Posted on September 19, 2016
Filed Under Business, Technology | Leave a Comment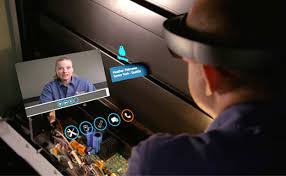 Looking through a lens into the future no longer requires waiting for the future. Increasingly the future is now. Take, for example, maintaining an elevator.
Maintaining an elevator? Right. Thyssenkrupp is equipping its 24,000 technicians with virtual reality headsets – Microsoft HoloLens with Skype – so that they can reach back to their offices, or wherever they need to go, for help in doing their jobs. Right in front of them is a colleague or blueprint, or whatever may be needed to help with the task the technician is dealing with.
This is astounding, and very soon, we suspect, will be in the "must have" category for technical people in many realms.
Explains the Cherryleaf Blog, "HoloLens with Skype capabilities enables over 24,000 Thyssenkrupp technicians to receive remote assistance by subject matter experts who can provide visual and audible advice using HoloLens's mixed reality capabilities. These remote subject matter experts can see what onsite technicians see in real time and even draw visual indicators on the technician's field of view to assist with repairs. By adding HoloLens to their solution, Thyssenkrupp has set a new standard in elevator innovation, reducing the average length of its service calls by up to four times."
Wherever the idea for virtual reality maintenance originated – maybe it was playing with computer games – it's now becoming a real world, on-the-job capacity. And it's saving Thyssenkrupp elevator technicians lots of time as well insuring that they're making the right moves.
Ellis Pratt at Cherryleaf, a digital technical writing colleague, has provided this information and insight into an emerging process reality that's both fascinating and reassuring in the context of technical innovation. Reassuring? Yes, you might say, elevators will shortly be having more ups then downtime. – Doug Bedell
Comments
Recently
Categories
Archives
Blogroll