Posted on March 19, 2010
Filed Under Technology, Uncategorized | Leave a Comment
We practically launched Insights with a post about electric cars and our hopes that Chevrolet's Volt will indeed be launched in November. Now here's Guy Kawasaki test-driving a Volt at the SXSW new media conference in Austin.
It runs! It handles nicely! Its approximate range will be 400 miles on an eight-gallon tank of gas and the electric motor will always power the car! This last is a reference to the Volt being a "series" hybrid. Existing hybrids are "parallel" vehicles – "the electric motor powers the car for low speeds, and the gasoline engine kicks in for greater acceleration and higher speeds," Kawasaki advises.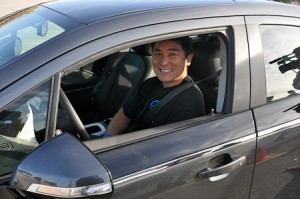 It's interesting (though dismaying) to note that the Volt test-driving was done in the parking lot of an Austin shopping mall where most of the stores were out of business – a hapless setting not unlike Detroit itself.
With electric cars, though, we may be at the symbolic juncture of two eras in the U.S.: the decline of the old manufacturing economy and the rise of a new innovation-powered one that's good for renewed production of industrial goods and jobs.  We certainly need that kind of good fortune. And we're wishing the Volt all success (at a reasonable price, of course).
Now, if electrically-powered transmission can be coupled with GM's new "augmented reality windshield" we may really have something! GM says the new windshield can highlight landmarks, obstacles and road edges before a driver's eyes, in real time. It can point out to drivers potential hazards, such as a running animal, even in foggy or dark conditions.
Boy, that would be great. Maybe "augmented reality" can even catch sight of a revived, prosperous and reliable industrial economy for us all. Right on at the new GM! – Doug Bedell
Comments
Recently
Categories
Archives
Blogroll