Posted on September 16, 2010
Filed Under Business, Technology | Leave a Comment
This isn't an electric car blog, but we've been following developments toward diversified transportation because we truly need to shake up our transportation system. Today Ford announced an electric Focus, a car with special appeal to us, because we own a gasoline-powered model and love it.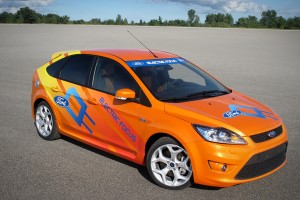 The thing is, though, Ford announced the car in partnership with the Texas utility, Oncor. And that immediately illustrated a limitation of all-electric vehicles. Iris Kuo, the GreenBeat reviewer, reached to turn on the air conditioning and Ford's representative in the car asked her to turn it back off. Reason: the A/C drains the battery too much. But they couldn't figure out how to shut it off  "thanks to a confusing control panel."
So there goes the Texas market, where temperatures are high and distances long. Ah well, it's no doubt a lovely car for other, more temperate locales. (It should be available next year.)
Oncor has installed 1.2 million smart meters, which will help consumers decide when rates are lowest for charging electric vehicles. Texas at least has lots of energy reserves.
Buyers of the first all-electric cars are going to be a little like modern-day pioneers, figuring out what the best blend of charging and mileage might be. Sort of like how far horses could pull before they got too hungry and fatigued. There's also a need to educate emergency responders about electrics, who could be endangered by the high battery voltage at the scene of an accident.
But this is important stuff, because our transportation system truly needs a broader mix of motive power. – Doug Bedell
Posted on January 22, 2010
Filed Under Technology | Leave a Comment
We've been waiting for electric cars to start making an appearance on U.S. highways – not hybrids but full-out electric models. Chevrolet's much-anticipated Volt is now scheduled for launching in November. It will run 40 miles on an electric charge and, says Chevy, "uses a range-extending gas generator that produces enough energy to power it for hundreds of miles on a single tank of gas." What that's referring to, explains Wikipedia's article on the Volt, is "a small 4-cylinder gasoline internal combustion engine (that) creates electricity on-board using a 53 kW (71 hp) generator to extend the Volt's range to more than 300 miles (483 km)."
Volts are scheduled for only 10,000 cars in 2011 – their introductory year – and maybe 60,000 in 2012. And the price is estimated to be near $40,000, before any federal tax credits applicable by then. So that's low output and a high price, for starters anyway, on a U.S. electric car.
We were nonetheless encouraged by a Wall Street Journal blog post in December on a joint-venture between A123 Systems, a Massachusetts-based battery company, and SAIC (Shanghai Automotive Industry Corporation), "China's biggest auto-maker by volume which already has a couple (electric cars) in the pipeline."
A123, a maker of  lithium ion batteries, seemed to have lost its electric car prospects when Chrysler  dropped its plans for one. So the Chinese deal has given the U.S. company a boost, and least for now.
But the Journal notes there are other  interests aiming for electric cars – "local (U.S.) rivals backed by Warren Buffet, playing the same game." The technology is either so vexing to producers, or perplexing to car buyers, that lots of folks seem to be wishing there wasn't a need for it. But there is.
Even so, oil prices are probably going to have to rise again, and stay higher, for us to get serious about getting electric cars on U.S. roads. As in so many other areas, though, the Chinese may provide a push. – Doug Bedell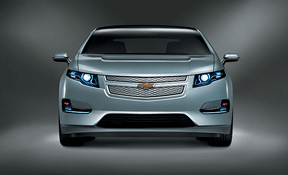 The Chevrolet Volt
Posted on August 12, 2010
Filed Under Technology | Leave a Comment
We last wrote about acting decisively either to debunk or apply new technologties, not just announce them and see them seemingly ignored.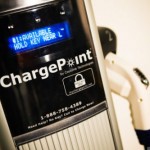 Now here's a city that's acting decisively in, you might expect it, the Silicon Valley. San Jose, CA, in 2007 announced its "Green Vision" – a 15-year plan that includes reducing per capita energy use by half, becoming a zero waste city, recycling and reusing 100 percent of the city's water, and moving to 100 percent renewable energy. Right on!
San Jose's resolves are especially pertinent because we've also been writing about the progress toward launching electric cars.  A detriment has been the lack of charging stations along highways and byways. But San Jose is doing someting about that.
The California city recently installed the first of 1,600 planned charging stations in the Bay Area as part of the ChargePoint America program to encourage the use of electric cars – by those who can currently afford the Chevy Volt, the Nissan Leaf or the Ford Focus EV, anyway.
San Jose is aiming to break the chicken-or-egg dilemma over which comes first toward reaching a green future.  Encouraged by San Jose's resolve, Couloumb Technologies, the maker of that city's first charging station, is expecting to have 4,600 of them around the country by October, 2011, in areas including Austin, Detroit, Los Angeles, New York, Washington, D.C. and Orlando.
San Jose's first charging station is inside a parking garage, appropriately enough – except, of course, that you'd first have to pay a parking fee to reach it. But who can quibble over a city as resolutely aiming for a greener future as San Jose appears to be?
TechRepublic is the source of the highly informative, amply illustrated web story that's prompting these acclamations for San Jose and electric car makers. And we ought to give some further credit where credit is due on the road to the future. Couloumb's $37 million Charge Point America program is funded in part by $15 million from the U.S. Department of Energy under the American Recovery and Reinvestment Act.
Lest we get too enthused about the appearance of these first charging stations, TechRepublic points out that the big deterrent to the adoption of electric cars (other than price)  is the need for "bigger, better battery technology." We'll try to follow that too, for it appears that we're actually  heading toward a less gasoline-reliant future.  – Doug Bedell
Posted on July 18, 2010
Filed Under Business | 1 Comment
What about the continuing drain in American manufacturing jobs? What do we do about it? Why do anything, you say? We still have knowledge creation occurring in the U.S. and that's what counts.
Well think about it.  Andrew "Andy" Grove, co-founder and now a senior adviser to Intel, prompts such salutary thinking in an article – "How to Make an American Job" – in the July 5-11 Bloomberg Businessweek. (We get Bloomberg Businessweek, but we happened upon the Grove article first in surfing the web for technology stories and hitting on the MetalMiner blog. Which demonstrates the unpredictable currents bringing information to our eyeballs these days.)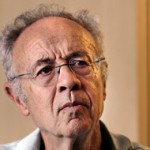 If we cheer aspiring entrepreneurs operating from garages and other start-up locales, but  then send the scale-up and production capacity to China or elsewhere  (as we've been doing), "What kind of a society are we going to have if it consists of highly paid people doing high-value-added work and masses of unemployed?" A really good and timely question.
China's Hon Hai Precision Industry Co. (also known as Foxconn) now employs more than 800,000 people, more, Grove notes, "than the combined worldwide head count of Apple, Dell, Microsft, Hewlett-Packard Co., Intel and Sony Corp."
Back in 1980, 10 years after it was capitalized for production, Intel had about 13,000 people making computer chips in the U.S. And a host of other companies were sprouting up, and employing Americans, in the Silicon Valley around Intel. But "as time passed," Grove recalls, "wages and health-care costs rose in the U.S., and China opened up. American companies discovered they could have their manufacturing and even their engineering done cheaper overseas." So, increasingly, they did. "Today," Grove points out, "manufacturing employment in the U.S. computer industry is about 166,000 – lower than it was before the first personal computer, the MITS Altair 2800, was assembled in 1975. Meanwhile, a very effective computer -manufacturing industry has emerged in Asia, employing about 1.5 million workers – factory employees, engineers and managers."
And that's not just happening in computers. We've been writing on Insights about electric cars. Well, their lithium-ion batteries are being made overseas. Not only that, those batteries were developed overseas. When, 30 years ago, the U.S. quit making consumer electronics devices, Grove advises, we lost our lead in batteries too. The scaling took place overseas and now it's doubtful that U.S. companies "will ever catch up" in battery technology.
When you let something like batteries or photovoltaic panels get away from you, you can lose whole job-creating manufacturing industries. Those guys in the next garages over may never be bright enough to catch up with that.
Bright people need to start thinking keenly about others, our own kids and aspiring workers. Where are they going to be employed a couple of decades from now? It's a worrisome outlook indeed.
Grove says we need "a job-centric economic theory – and job-centric political leadership to guide our plans and actions. We need specific actions, as well, like financial incentives "to rebuild our industrial commons." Grove, who grew up in Soviet-dominated Hungary and fled to the U.S. for its opportunities, suggests an "extra tax on the product of offshored labor. (If the result is a trade war, treat it like other wars – fight to win.)"
Yes, you probably sensed where this was heading – we've got to start thinking differently about concepts like fair and free trade and where they've been taking the economic prospects of growing numbers of Americans. We don't like "war" metaphors, we don't want to get nasty, just considerate of what it may take to have people thrive, as they once did, on production lines in the U.S., as well, now, as around the world. – Doug Bedell
Posted on June 15, 2010
Filed Under Technology | Leave a Comment
We've been noting the advent of electric cars. Now here's a review of one of them, the Nissan Leaf, that, along with the Chevy Volt, is likely to make 2010/11 a landmark time for battery-powered transportation. Both cars are aimed a the mass-market buyers. (One thing we seldom see, however, is discussion of  the cost of replacing an electric car's battery once it wears out. "Buy 'em new," seems to be the best approach to electric autos.)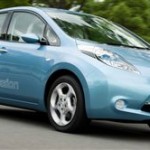 Car magazine reports that Nissan purposely designed the Leaf to look "normal," and so it does. It's for urban and suburban use, not speedways, but can hit 90 mph. It has a range of  around 100 miles.
We love this aspect of the car: It's quieter than a Rolls Phantom. Up to 15 mph, it has "a muted jet engine whirr," that's discernable only to pedestrians – to warn them it's around.
Here's more on electric cars from Energy Biz Insider. – Doug Bedell
Posted on May 20, 2010
Filed Under Technology | Leave a Comment
Here's an exciting story of two carmakers collaborating for mutual advantage and serving U.S. energy goals in the bargain. Toyota and Tesla Motors are parterning to reopen the former General Motors/Toyota NUMMI plant at Fremont, CA, to build electric cars there – and potentially recall thousands of laid-off workers.
Tesla Motors, advises Wikipedia, "is a Silicon Valley-based company that engages in the design, manufacture, and sale of electric vehicles (EVs) and electric vehicle power train components. It is currently the only automaker building and selling highway-capable EVs in serial production (as opposed to prototype or evaluation fleet production) in North America or Europe." It produces at least 15, mostly custom-ordered cars a week.
Here's the essence of the Tesla-Toyota deal, as reported on the GreenBeat blog:
"1. The joint development  of a brand new,sub- $30,000 electric car, that will contain Tesla's unique powertrain design, with everything else built by Toyota;
"2. The purchase of the NUMMI plant, where Tesla plans to manufacture both its Model S sedan due out in 2012, a new $30,000 Tesla-designed vehicle, and the more affordable jointly designed "third-generation" vehicle;
"3. A $50 million investment from Toyota into Tesla when the company goes public, probably later this year."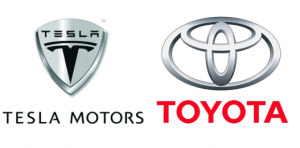 Another electric car initiative in the U.S. will enliven the marketing scene that's been developing around the forthcoming Chevy Volt and Nissan Leaf. 4,700 people worked at the NUMMI plant and it's possible that when Tesla's Toyota-assisted sub-$30,000 car rolls out even more than that number will be employed.
This is all great news involving intelligent energy policy and enlightened management thinking as well. A win-win partnership very much in the public interest. – Doug Bedell
*  *  *
This is a significant development. I lived only about 10 miles away from that plant and it was a big employer when I was young. I recall touring the plant with my Boy Scout troop.
I understand Tesla's existing models sell from about $50,000 to $100,000, so a sub-$30,000 vehicle is a big step forward. I've read reviews of their existing models and they have amazing acceleration.
This is a nice example of a Silicon Valley startup thinking outside the box and coming up with a way to ramp up production quickly. – Dennis Owen
Posted on March 19, 2010
Filed Under Technology, Uncategorized | Leave a Comment
We practically launched Insights with a post about electric cars and our hopes that Chevrolet's Volt will indeed be launched in November. Now here's Guy Kawasaki test-driving a Volt at the SXSW new media conference in Austin.
It runs! It handles nicely! Its approximate range will be 400 miles on an eight-gallon tank of gas and the electric motor will always power the car! This last is a reference to the Volt being a "series" hybrid. Existing hybrids are "parallel" vehicles – "the electric motor powers the car for low speeds, and the gasoline engine kicks in for greater acceleration and higher speeds," Kawasaki advises.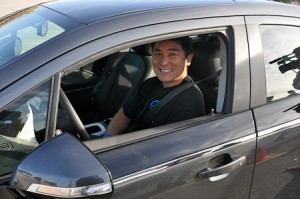 It's interesting (though dismaying) to note that the Volt test-driving was done in the parking lot of an Austin shopping mall where most of the stores were out of business – a hapless setting not unlike Detroit itself.
With electric cars, though, we may be at the symbolic juncture of two eras in the U.S.: the decline of the old manufacturing economy and the rise of a new innovation-powered one that's good for renewed production of industrial goods and jobs.  We certainly need that kind of good fortune. And we're wishing the Volt all success (at a reasonable price, of course).
Now, if electrically-powered transmission can be coupled with GM's new "augmented reality windshield" we may really have something! GM says the new windshield can highlight landmarks, obstacles and road edges before a driver's eyes, in real time. It can point out to drivers potential hazards, such as a running animal, even in foggy or dark conditions.
Boy, that would be great. Maybe "augmented reality" can even catch sight of a revived, prosperous and reliable industrial economy for us all. Right on at the new GM! – Doug Bedell
Posted on April 15, 2013
Filed Under Education, Technology | Leave a Comment
Now, thanks to the Internet and blogging, you can be alongside practically anyone trying to do almost anything – like exceeding 400 miles-per-hour in a streamlined electric car. And you learn that the ones trying to set that mark are students at Ohio State University, which created TRC Inc. (the Transportation Research Center). That's where development of the vehicle, the Buckeye Bullet, has been underway. The current version is the Bullet 3. Ohio State students have been developing electric racing cars since the 1990s. What's an "early age" for enterprise anymore?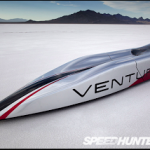 We happened upon news of this pending exploit on the web, of course. But these are automotive students, however. Their website doesn't clearly explain where they currently are, which makes it a bit frustrating to cheer them on.
Roger Schroer, a TRC technician and apparently a speed car driver, we're advised on an undated TRC page, will be heading to France late this month (we presume) to link up with the Federation International de la Automobile FIA, "the predominant international sporting body which regulates motorsports." We haven't heard anything yet about this automotive exploit in the news media, but if it's yet to be held, we hope we will. The "kids" deserve the attention.
(Roger, incidentally, expects to be driving ((or drove)) a replica of the first vehicle to exceed 100 KMH ((62 MPH)) – the "La Jamais Contente," or "The Never Satisfied," while he's in France. That event occurred in 1899. Never satisfied, indeed.)
While the Buckeye Bullet blog exists, the latest streamlined car itself hasn't been completed yet; it's in progress. This February's Scientific American had an article on it – "The Battery-Powered Bullet." It looks like a one-finned firecracker being readied to set off at the Bonneville Salt Flats in Utah. (The Bullet 2 topped 300 mph there. You can watch it on YouTube.) You can follow this high velocity effort on Twitter, where the Bullet is being chronicled by "the fastest Tweets on earth." One from a while back reads, "countdown to spring break: 10 days finally a chance for a solid bullet work week!" (Geez, and all we did during spring break was…)
Whatever the exact status of the latest Bullet may be, you can't expect engineering students to have press agents, too. Tuition only goes so far. These kids have been doing great work, and we cheer them on! (Here, from Wikipedia, is as much of the history of the program as we can put together.) – Doug Bedell
Posted on October 12, 2010
Filed Under Technology | Leave a Comment
Oh, boy, it's been a wondrous evening on the Internet. First, Google is developing driverless cars. And now we find that Airbus is anticipating building invisible airplanes. The aircraft manufacturer, Fox News reports, envisions airliners with transparent fuselages. That is, they would become transparent when the pilot pushes a button Read more
Recently
Categories
Archives
Blogroll