Posted on November 18, 2010
Filed Under Technology | Leave a Comment
Government Technology magazine has a story about a new federal building – the Research Support Facility  (RSF) at the National Renewable Energy Laboratory (NREL) in Goldon, Colorado, that produces as much energy as it consumes. It costs hardly anything to keep the lights on or the air-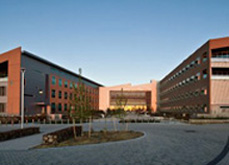 conditioning humming. In fact, there is no actual air-conditioning, because there's no need for it. The building has a "pink-noise" generator that mimics the sound of a forced-air system. That's because the lack of such "white noise" in an office is considered distracting. And the building is lit 100 percent by daylight. There's artificial lighting, but it's used only at night or during stormy weather.
So here's a building that houses 800 federal employees and heats, cools and illuminates itself. It's energy costs are virtually zero, except for maintenance. The really amazing thing is that it's construction costs were comparable to commercial buildings that have costly  heating and air-conditioning systems. "We can do projects like this today, using today's materials and today's techniques at costs that are comparable to today's commercial buildings." says Jeffrey Baker, the Department of Energy's director of the Office of Laboratory Operations at the  Golden Field Office.
What it takes is a change of perspective, a "repurposing" of materials and techniques, a fresh way of thinking about building design. Baker conceived of the building 15 or more years ago. "It took that long to get everything lined up, but once everything did get lined up in the budget process…such that we had money and support, the project went very quickly," he says. The building was completed in three years.
There are a host of interesting energy-saving designs, textures and systems in the Colorado building, starting with its "lazy H' shape and the solar panels on its rooftops. Even the heat from its data center is captured and reused.
We just wrote about the windows in New York's Empire State Building all being replaced for greater energy efficiency. Those at the new Colorado energy center are triple paned and triple glazed. None of the offices, including those of "the bigwigs," have ceilings. They're all open at the top, for  maximum air circulation. Inside and out, the building looks like a marvel of modern architecture.
"It all operates passively, so there's not a lot of very complicated technologies," says Baker. "What we've done here today can be duplicated by others."
Yes, it can, providing there's a mindset for doing things differently, for anticipating the future with creative, economical use of today's materials. The geographical setting doesn't matter nearly as much as the mental outlook of a building's sponsors and designers. Similar technologies are available for residential construction as well. – Doug Bedell
Comments
Recently
Categories
Archives
Blogroll