Posted on August 31, 2015
Filed Under Business, Communication, Technology, The Writing Life | Leave a Comment
One of the truly liberating aspects of a talent like technical writing is the ability to function with minimal support and oversight. That's the setting you're likely to find at a start-up company, so don't overlook the advantages of working for a beckoning startup.
Tom Johnson, of I'd Rather Be Writing, asks: "What qualities should technical writers have to work at startups?" He answers by listing: Technical aptitude, Independence and leadership, Content strategy skills, Versatility and Stability.
Stability? Aside from coming to work each day at an agreed time, what's that mean in terms of successful technical writing?

"To ride the roller coaster of a startup," Tom explains, "you need to have stability in your career, knowing that if your job dries up you can find another, or that you have savings to cover a period of unemployment during the transition, or that you can handle any changes and continue with the company, perhaps in another role entirely (e.g., support or training manager)."
Actually, as we discovered at a trip to our local, continually-evolving amusement park recently, the roller coaster was among the milder of the thrill rides. You've got to be prepared for anything that fate or fortune throw at you these days.
Underlying ability, interest and fortitude still contribute the most to your ability to keep your seat when things get turbulent which, at some point, they most likely will. Close your eyes (for a moment), hold on, circulate, observe and write well. Keep your hands on the car, not up in the air, as the non-achievers tend to do.
Okay, they're just doing that out of exuberance (or maybe in defiance of fear). But it's not exuberance that keeps you safely employed at today's workplaces, or on behalf of today's clients. It's ability, vision and diligence. – Doug Bedell
Posted on July 9, 2015
Filed Under Business, Technology | Leave a Comment
There's a thoughtful article on energy efficiency – how to achieve and measure it, especially in households – on MIT's Technology Review site. This post isn't intended fully to resolve this important question, but to note MIT's helpful information on it.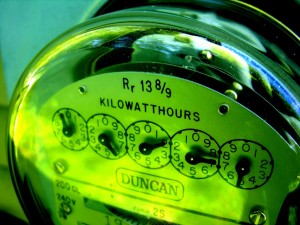 First off, American industries, as contrasted with homes, "have done a good job of becoming more (energy) efficient." That's not, of course, because homeowners and renters are perverse about energy savings, but that achieving them in significant volume is harder to do in households. So "overall energy consumption by households has continued to rise, according to the U.S. Energy Information Administration."
Sentiments have sharpened since a study on weatherization assistance in Michigan households was released in June. Based on 30,000 households participating in the federal Weatherization Assistance Program (WAP), it showed that "The costs to deploy the efficiency upgrades were about double the energy savings."
Gee, households are hopeless. Not really – "There's plenty of counter-evidence," the MIT review notes. Marshaling it is challenging, though. You need to measure "actual savings at the electricity meter."
That's what California is attempting to do: "Using data from electricity meters to track actual savings and adjust projections to match performance." The state's CalTRACK program is "using data from electricity meters to track actual savings and adjust projections to match performance. It's "supported by environmental groups and utilities such as Pacific Gas & Electric and is based on the Open Energy Efficiency Meter, "a technology standard designed to help businesses, homeowners, utilities, and regulators reliably calculate the savings from energy efficiency projects."
Monitoring energy use is challenging and MIT provides several links to source materials on the issues and prospects involved. They're definitely worth pursuing by anyone seriously interested in energy efficiency, and we're pleased to provide this lead into the matter. Metering's the method, it appears. – Doug Bedell
Posted on March 25, 2015
Filed Under Business, Technology | Leave a Comment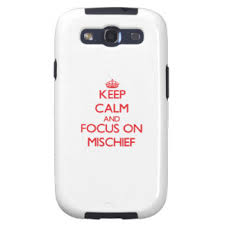 Wow, the sheer scale and density of information on the Internet, not to mention corporate computer networks apart from the web, is becoming mind-boggling, and a growing opportunity for cyber mischief, intentional or by happenstance. Technical writers need to pay heed to what's going on around them in this regard.
Mark Schaefer in his engrossing new book, The Content Code, discusses "content shock," and points to "a 500 percent estimated increase in the amount of information on the web between 2015 and 2020. If you can imagine the vastness of the web today…well, pretty soon we're going to have five times that! And some think that number is low, projecting as much as a staggering 1,000 percent increase in information density in that timeframe!"
Schaefer adds that 75 percent of this information increase will be coming not from automated sensors in homes and on highways, the long-anticipated Internet of Things, but from brands and individuals. "Nearly every person on earth is becoming his or her own personal broadcast channel," he advises.
So what is a conscientious technical writer to do in the face of an information tsunami? Simply shrug it off and continue adding his or her own rivulets? Partly that, of course – completed pages, assignments and newly authorized documents prompt paychecks.
Yet from within the deluge promptings toward order, economy and clarity of expression would seem to be increasingly advisable. Sanity, not to mention safety, comes in providing reliable guidance and making such output as accessible as possible to its intended consumers.
But still, the mass of data available on local servers is an invitation to mischief or, to be less discreet, prying and spying. Chris LaPoint, Vice President of Product Management at SolarWinds, writes on the Technically Speaking blog that "insiders are starting to supplant external hackers and terrorists as the greatest cybersecurity threat." In a SolarWinds survey of federal IT pros, "more than half (53%) of the respondents identified careless and untrained insiders as the greatest source of IT security threats at their agencies, up from 42 percent last year."
So, it would seem that a responsible technical writer needs to be attuned not only to his own computer screen and keyboard, but to what is occurring around him as he pursues his work.
Mischief might not always be intentional, sometimes it's the result of sheer sloppiness. Along with the increasing volume of network traffic, "the growing use of personal devices is another factor, as is mounting pressure for IT pros to change network configurations quickly, rather than correctly. Combine these issues with simple human error – a misplaced USB drive here, an unattended laptop there – and lack of training, and one can understand how insider threats can loom so large."
It's no longer that growing amounts of internally generated information are merely unwieldy, they may also be hard to safeguard, that is, to police. Let conscientious technical writers be mindful of that. – Doug Bedell
Photo – zazzle.com
Posted on December 9, 2014
Filed Under Business, Communication, Technology, The Writing Life | Leave a Comment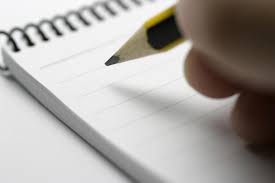 Taking notes isn't simply scrawling a snapshot of what you've read so that you can recall the details later on. Technical writers, especially, should be mindful that note-taking can be a memory jog for inspiration itself – that is, it has a wider function than just "recalling". It can be a prod for creative advances.
We are reminded of the creativity-prompting potential of note-taking via an edutopia post by T.R. Girill, of the Society for Technical Communication at the Lawrence Livermore National Laboratory.
There were, of course, as Girill observes, the field notes of Henry David Thoreau "on the flowering times of 500 plants near Concord, MA (that) are still used today for comparison with current climate-change data." But, as he continues, most notes "are used by an audience of one": yourself. Yet they can extend your reach widely.
Thus, Girill cites Eric Green's chapter (Ch. 12) in Michael R. Canfield's book, "Field Notes on Science and Nature" (Cambridge: Harvard University Press, 2011) in urging science students – we'd add practitioners, too – to extend the scope of their note-taking "beyond just observations or numerical data" to include such utilitarian matters as:
"• Memory aids, about places, times and conditions that could be helpful later but will be forgotten if not captured now.
"• Organizational Aids, cross references and page indexes (easiest if the notebook pages are numbered), especially for long projects.
"• Commentary – any remarks that could generate new ideas or improvements on old ideas."
Writers and reporters have been mindful of the memory-prodding value of notes for ages. Thus the piles of notebooks and other materials that you're apt to find in the vicinity of newspaper reporters and writers, or at least were, before the acquisition of digital data became so prominent. (We remember the table behind the desk of one reporter at the old Philadelphia Bulletin that was piled so high with notebooks and other source materials that it nearly triggered a newsroom pool as to when it might topple over.)
Girill's post includes further prompting on memory-jogging techniques stemming from good note-taking. We'd simply restate what should by now be obvious – that the more you earnestly record, the more you're likely to usefully recall at some especially auspicious point later on. Note-taking is well worth the time involved in jotting informative encounters amply down. – Doug Bedell
Posted on January 15, 2014
Filed Under Business, Government, Technology | Leave a Comment
"Peacetime" aerial drones don't have only to do with whether Amazon.com will be using them as delivery vehicles. Domestic drones (or UAVs – unmanned aerial vehicles) may one day fairly soon be saving lives or helping to suppress forest fires, along with delivering Amazon's wares to your doorstep (if you live close enough to one of its distribution centers).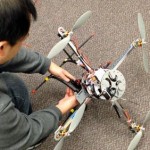 Drones, as Wikipedia notes, have been known primarily as military and special operations vehicles. But they are coming into practicality and favor for "a small but growing number of civil applications, such as policing and firefighting, and nonmilitary security work, such as surveillance of pipelines." They're often preferred, Wikipedia adds, "for missions that are too 'dull, dirty or dangerous' for manned aircraft."
There they go, smudging the image, though not the ultimate utility, of civilian drones already. Flight rules will have to be worked out by agencies like the Federal Aviation Administration (FAA), so there will be no possibility of interference with aircraft with onboard pilots and passengers. But the domestic drone's day is coming. The Senate Commerce Committee is holding hearings on their use. And the Federal Aviation Administration has established six drone test sites, preliminary to figuring out how to safely integrate them into U.S. airspace.
Wei Wei, a student at the University of Cincinnati, is convinced of that. The university is a center of drone research. Kelly Cohen, an associate professor aerospace engineering engineering and engineering mechanics there, says "our students see that unmanned systems can have a positive impact on society."
Wei Wei is one those students. He's speaking this week on the design of quadrotor drones (drones with four vertically-mounted propellors) at a UAV conference at National Harbor, Md. "A selling point for this configuration is its efficiency, in both time and money, and the accuracy."
A University of Cincinnati team working with drones at the University of Toledo is well along on its Surveillance for Intelligent Emergency Response Robotic Aircraft (or SIERRA) project. It's drones, advises phys.org, are being "outfitted with global positioning systems, environmental data, video and fire-prediction software to give real-time information to firefighters about where a fire is burning and where it is moving – information that could save lives." Wei Wei has been part of this research, too, and it's been drawing interest from the Cincinnati Fire Department.
There's already jousting going on at the legislative level to prompt the FAA to issue regulations that will allow the safe use of civilian drones. That's a likely outcome of all the current incubation going on, as well as the utility of the future's civilian drones. – Doug Bedell
Posted on October 14, 2013
Filed Under Business, Government, Technology | Leave a Comment
You've got to wonder how widely the world will be wired for electricity in the not-so-distant future, say, 2050, and how we're going to get there. A post on the phys.org site discusses that outlook as its being envisioned at the World Energy Congress being held this week in Daegu, South Korea. It refers, in the process, to some humbling, if not scary, figures.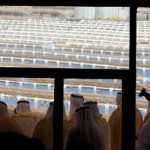 Writer Frederic Pouchot reports that population growth and accelerating urbanization are going to present the world with "a host of challenges" in the decades ahead. Indeed. A report issued by the World Energy Council (WEC) at the congress presented two energy scenarios – dubbed "Jazz" and "Symphony" – for the next four decades.
Under the market-driven Jazz scenario, "total primary energy supply could increase by 61 percent by 2050." The government-led Symphony scenario "–focused on environmental sustainability and energy security–envisages an increase of 27 percent." Both are big numbers, though the market-based projection sounds colossal. Ominously, both scenarios envision "CO2 emissions well-beyond the target levels deemed necessary to meeting the UN-set target of limiting global warming to 2 C (3.6F) over pre-industrial levels."
The thing is, Pouchot notes, while both projections are, or should be, humbling, neither would be sufficient to meet the needs of a world population expected to grow to nine billion people, from seven billion today. And they'll all be aspiring for prosperous lives.
We're only providing a lead-in here. The WEC report itself is well worth your direct attention. But consider a figure between $19 trillion and $25 trillion–that's what "the required investment in electricity generation alone" will be to meet 2050's demand levels.
There's so much for the world to be concentrating on, so many challenges to be met, as the relatively short-term future unfolds. Do you think we can get ourselves together to handle them? We can only hope and wonder at the same time. – Doug Bedell 
(Photo – A solar power plant on the outskirts of Abu Dhbai, the capital of the United Arab Emirates in March of this year.) 
Posted on October 1, 2013
Filed Under Business, Communication, Technology | Leave a Comment
It might seem counterintuitive to link Pinterest – the pinboard Web app you tend to associate with garden parties and interior decorating – with technical writing. But that's wrong. Witness the marvelous job Ugur Akinci has done on Pinterest with his technical writing pinboard.  In addition to being a Fortune 100 technical writer, Ugur  is an online course designer, a lover of Bossa Nova, running, singing in harmony, positive thinking and meditation. A real renaissance man in a Web setting!

Ugur has a couple of dozen other pinboards besides the one on technical writing. Pinterest ought to be using him as a demonstration of the range of its engaging technology. Everything from Films of Cary Grant tp Technical Communication. And Ugur keeps on servicing them all; he seems particularly in love with Hawaii.
We wonder how today's Web men and women have time for all the surfing, designing and posting they do, and still maintain their sponsoring discipline, in this case technical writing. It's an expressive medium, to be sure, but there's usually not a copydesk rimmed with green-eyeshaded proofreader/headline writers to help with it. We note that Ugur is a PhD, which doubtless has something to do with his capacity for productive creativity. A lot of it has to do with thinking through your aims and concepts beforehand.
Anyhow, Pinterest is a delightful means of portraying your interests on the Web, and thereby doing yourself – whether you're a technical writer, sprinter or a homemaker – a celebratory service. – Doug Bedell
Posted on September 12, 2013
Filed Under Business, Communication, Technology, The Writing Life | Leave a Comment
Dennis Owen and I admire greatly M.J. Hurley, a technical writer whose accomplishments we read about in a Washington Post column by Thomas Heath.  M.J. has built a technical writing business that earns her $400,000 annually. She did it through persistence and inspired toil, inherited from her mother, who was killed when she walked into a robbery at a 7-Eleven store in North Carolina 38 years ago.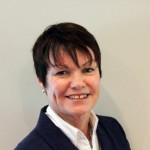 After teaching and working on her PhD, M.J. decided to go into technical writing and landed her first contract at PPD, a pharmaceutical company in Wilmington, N.C. She landed that work out of sheer tenacity. "I called anyone at PPD who would listen to me," M.J. recalled. She finally got a contract that "included teaching all new PPD employees to write internal documents." One of the women at PPD took her aside and told her she wasn't charging enough, so she upped her rate, in light of the value her technical writing services were adding to the company's functioning.
"I don't teach grammar," M.J. says, "I teach critical thinking. You always have to think about the point you are making. Whether you are writing a user manual, an engineering report or telling your boss what you accomplished on a trip, you have to remember what you are trying to accomplish. You are writing for the customer, not for the person next to you in the pod."
That's the aim of any good writing – its impact in the context of its intended use. Technical writers, like any other writers, need appropriately high horizons. M.J. is in demand by managers "who find themselves spending too much time rewriting the reports handed in by their staffers."
That registers with Dennis. "I basically got my start as a technical writer," he recalls, "when one of the managers I worked for in Idaho noticed I could write and started giving me reports from other engineers to fix so he didn't have to. That seems like eons ago."
"My favorite all-time edit (I'll never forget it)," Dennis adds, "was when an engineer was writing about a calculation and instead of writing 'multiply the value by six,' he wrote 'the value is augmented by a multiplicative factor of six'…I love that."
M.J.'s work and the recognition it's been receiving, Dennis notes, "illustrates how valuable good, concise writing is to a company."  It surely does. – Doug Bedell
(Photo of M.J. Hurley)
Posted on August 2, 2013
Filed Under Business, The Writing Life | Leave a Comment
Geez, we don't want to be sticklers for detail, but in technical writing, detail's important – especially when you're claiming to pay attention to it, as is the case with this MacPrices.net post, "iFixit Announces Free Tech Writing Handbook." We were surfing for an Insights topic when we came across this post and its declaration that "I only hire applicants who practice good grammar."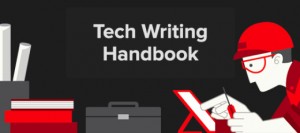 We're not sure that punctuation is necessarily included in "good grammar," but sloppy punctuation derails readers as easily as sloppy grammar.  And we found a half-dozen punctuation errors and a couple of other writing sins in this post by iFixit CEO Kyle Wiens:
First, in the opening sentence, there's a semantic miscue – "I kicked up a bit of a dust last year…" (italics added) "I kicked up a bit of dust…" is correct, of course.  Then, in the next sentence, an apostrophe is omitted in "an applicants attention to detail." (Even WordPress has this underscored.) And there are several other instances in which apostrophes are omitted.
Then there's a space lacking where there ought to be a dash, so we have "We teach real people how to do real-world thingshow to repair computers…" (Again, WordPress is on the ball.)
In the sixth paragraph, we have quote marks missing around the sentences beginning "I'm sorry…"  And this paragraph ends simply, "My bad." "My bad" what?
We may be coming across as quibblers. But when a technical writing colleague posts on his book being "a useful resource for anyone looking to improve basic writing skills," careful proofreading is such a skill, even in, or especially in, a web promotional release.  – Doug Bedell
Posted on June 12, 2013
Filed Under Business, Communication, Technology | Leave a Comment
Imagine viewing technical writing as "an emotional experience."  Larry Kunz does just that, but he doesn't propose approaching a technical manual or document as a potboiler. What he means is producing technical writing that elicits "a feeling of trust," and that's right on the mark. Good technical writing should produce a feeling of confidence in its utility.
Think of the times when you've been frustrated by obscure or meandering directions. The only emotional reaction they likely produced was annoyance, and who needs that?
Kunz is a product manager and information architect with SDI, a global consulting firm. "Technical writing," he advises, "exists to help someone perform a task or gain some knowledge." Indeed, good technical writing should elicit feelings of accomplishment. You should be able to trust a manual or procedure to get you efficiently to a desired result.  That feels great when it happens!
Our Encore owner and colleague, Dennis Owen, notes, however, that emotionally satisfying technical writing can be hard to produce when it has to be based on a prescriptive writer's guide or on satisfying numerous reviewers "who don't necessarily place the reader's interests uppermost." Yet technical systems don't exist for themselves, but for those assigned to operate and maintain them. Why make work-life a downer for the users?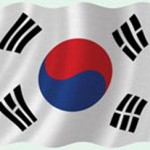 Illustrations can help. Dennis recalls when he once added sidebars to a technical report on bar coding he wrote "on various things I'd discovered when researching the topic. For example, bar codes began in the railroad industry, as big symbols on the sides of rail cars so that trackside readers could track cargo. Also, bar code-like symbology is actually quite old. The bars and dashes on the South Korean flag, for example, convey a message and hark back to a very old way of communicating. As I recall, though, none of my sidebars made it to the final printed document." Too bad. Illustrative material can highlight and hasten understanding of a process.
"Customers," Larry Kunz notes, "are willing to read technical content when they trust it to be helpful. Granted, many readers will sooner trust other readers than the 'official' company documentation." Hence the rise of online forums.
Yet when an employee is in a plant or other workplace setting with a technical manual or procedure in hand, he or she wants it to be revealing, not puzzling. The satisfaction of success is a highly emotional reward for work done well, by the writer and reader alike. – Doug Bedell
« go back
—
keep looking »
Recently
Categories
Archives
Blogroll